Enjoy a once-in-a-lifetime encounter with Mick Jagger, Keith Richards and the rest of the iconic band. Not available to the general public, this rare concert package includes premium show seating from the band's private allotment of tickets.
The Experience
After 55 years and over 250 million albums sold, The Rolling Stones continue to earn their keep as the greatest rock band that ever was. This spring The Stones will continue to make their way through United States on their "No Filter" mega tour, and we has your invitation to meet the mythical rockers in person.
A pair of premium seats await you at the available tour date of your choice, where you will arrive to the venue early for a special pre-show reception. Then get ready as Mick, Keith, Charlie and Ronnie unleash a half century of unforgettable hooks. From Sticky Fingers to Tattoo You, The Stones are behind some of the most influential albums in popular music. Witness the band's signature live electricity from some of the best seats in the house.
Your incredible evening will culminate with a face-to-face meeting with The Stones themselves. Shake hands with the legendary musicians and capture the moment forever in a photo. You will also take home a custom-picked merchandise bag packed with limited edition concert memorabilia.
Details
2 premium reserve tickets to The Rolling Stones' 2019 "No Filter" Tour

Exact location will not be available until day of selected show and may be anywhere in the band's allotment

Priority check-in and entrance
Pre-show hospitality reception
Meet & greet with the band before the show
Personal photo with the band by a professional photographer
Swag bag with merchandise for each guest
Please note that guests attending may be required to pass a background check
Experience provided in English (US)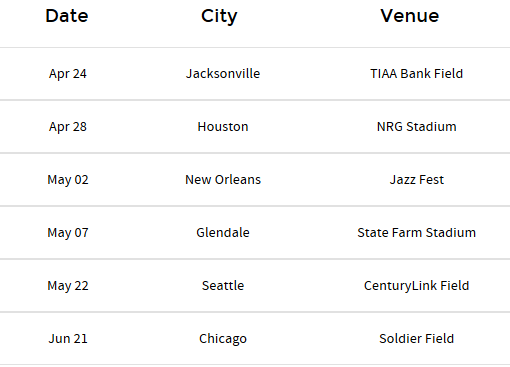 Photo by xiquinhosilva on Foter.com / CC BY